Omsan Logistics opened the export – import line between Turkey and Slovakia with METRANS, a long-established logistics company of Europe. Within the scope of the cooperation, the first freight train departed from Dunajska Streda Terminal in Slovakia to Istanbul Halkalı Terminal.
The first train departed on the import-export line established by Omsan Logistics, one of the OYAK Group Companies, in partnership with METRANS, a long-established logistics company in Europe, which makes intermodal transportation using different transportation modes such as road, sea, air and rail. Within the scope of the project aiming to increase Turkey's railroad exports, the containers moved from the METRANS Terminal in Dunajska Streda, Slovakia, to Istanbul Halkalı Train Station.
All organizations having commercial flows with Omsan Logistics and METRANS will be able to benefit from the project, which serves the goal of increasing Turkey's export revenue via railroad. As of September, journeys between Halkalı and Dunajska Streda will be carried out regularly and reciprocally. Thanks to the project, intermodal services will be provided to countries such as Czechia, Hungary, Austria, Poland, Germany and the Netherlands via Slovakia with the huge terminal of 280 thousand square meters in Dunajska Streda.
Yunus Demirer, Turkey's Ambassador to Slovakia, Cömert Varlık, General Manager of Omsan Logistics, and Peter Kiss, CEO of METRANS Group, attended the ceremony held at the Streda Terminal for the journey of the first train.
Yunus Demirer: Two countries will open doors to each other
Speaking at the ceremony, Yunus Demirer, Turkey's Ambassador to Slovakia, stated that both countries are similar to each other in terms of their geographical locations. Demirer noted that Turkey could be a gateway to Central Asia, Asia and the Middle East for Slovakia, a Central European country, and that Slovakia could mediate Turkey's opening to Central, Eastern and Northern Europe. Demirer said that he looks forward to the realization of similar new projects in the near future and wished success to both companies.
Cömert Varlık: We will contribute to many countries
In his speech at the ceremony, Cömert Varlık, General Manager of Omsan Logistics, stated that they are feel honored for the cooperation with METRANS, one of the long-established logistics companies in Europe, in line with the vision of Süleyman Savaş Erdem, General Manager of OYAK. Underlining that they will add a lot to their country with the partnership made in this period when economies are undergoing a great transformation, Varlık said "This operation will contribute to both the national economies and the countries of the region."
Peter Kiss: Our aim is to provide the best and comprehensive service to our customers
Peter Kiss, General Manager of METRANS, also expressed that they are very happy to start such an exemplary project on the path they share with Omsan Logistics. Underlining that their aim with the project is to ensure that the two companies provide the best and comprehensive service to their customers by joining forces, Kiss noted that they will implement other projects in the future.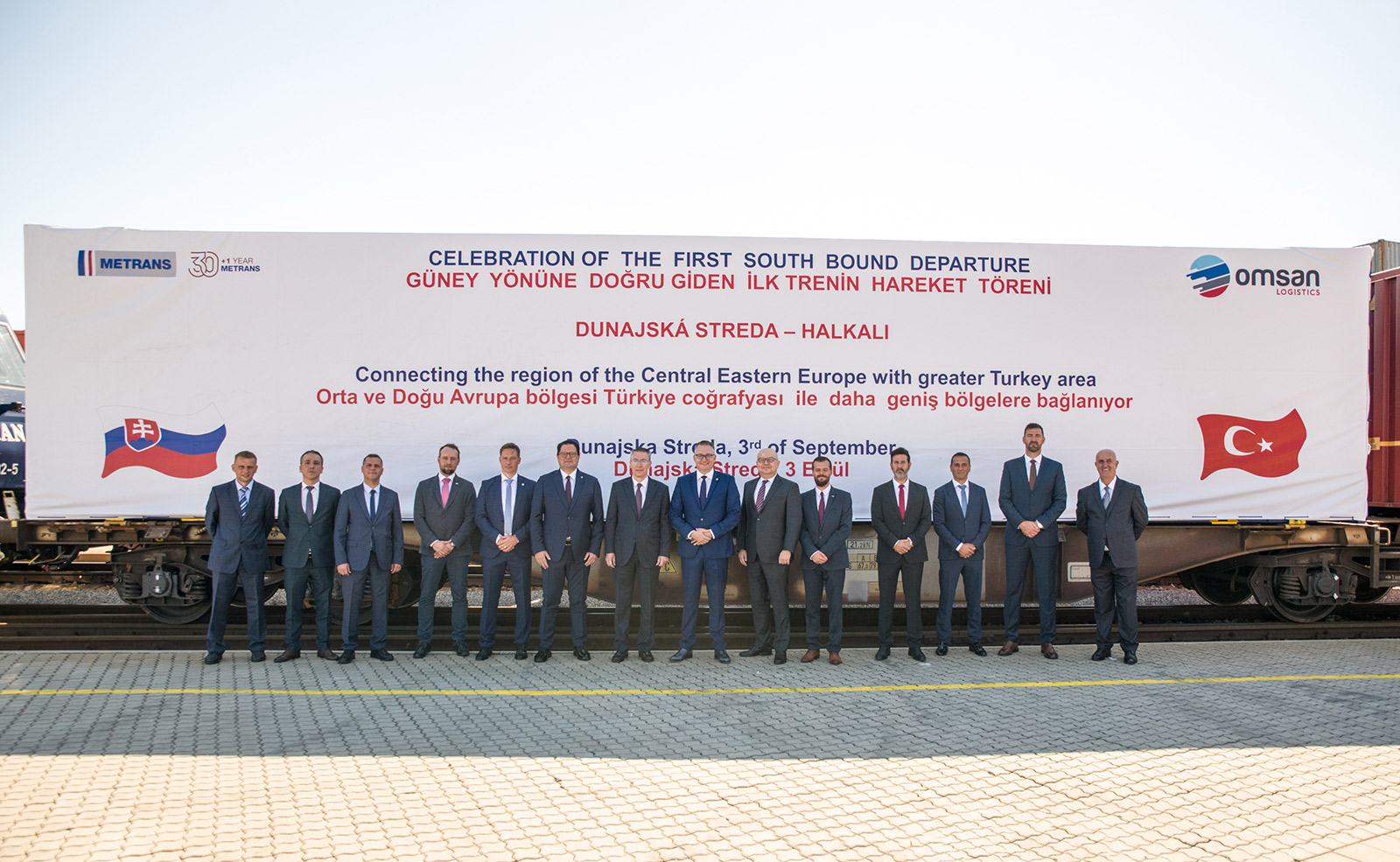 An exemplary project for 'green transport'
Omsan Logistics, which has made a difference in the field of railroad transportation that is recently described as 'green transportation', is increasing the weight of railroad transportation in its service portfolio day by day.
Omsan Logistics sees the railroad, the focus of the Green Transport concept, as a strategic growth area, and provides services in this field with its fleet of 15 locomotives and more than 500 wagons.
Prevention of carbon emission that would be balanced by more than 2 million trees
Thanks to the line opened between Istanbul and Slovakia, Omsan Logistics aims to prevent carbon emissions that can be compensated by more than 450 thousand trees by the end of next year.
According to the calculations made through the 'Digital Carbon Footprint Calculation' application, the use of railroad lines in the operations carried out by Omsan Logistics in 2021 provided savings equivalent to the carbon emissions that 2 million 220 thousand 154 trees can balance. At this point, projects that contribute to the emission reduction realized by logistics companies, especially with the EU Green Agreement, gained great importance.
Omsan Logistics, the leader among private companies engaged in railroad transportation by taking a share of more than 10 percent in the total transportation carried out by rail in Turkey last year, has increased the volume of operations carried out with both self-owned and chartered ships in seaway, another environmentally friendly transportation mode, approximately by 8 times.
For detailed information about Omsan Logistics' intermodal logistics services, contact intermodal@omsan.com; detailed information on railroad operations can be accessed through demiryolu@omsan.com.